Four wounded warriors were washed ashore onto the beach of the peaceful Kijikai Island.
Found by the eldest daughter of the Hirai Family, Mana, they were able to recover from the brink of death. However, when word of the island's tsurugi were heard by one of the four, Takagi Kanpei, his respectful demeanour changed in an instant.
"Truth be told... before I came here, my tsurugi was destroyed by a certain man...
I gotta have a new tsurugi no matter what."
If they resist, he will kill everyone on the island, threatening with his blade, Kanpei had the Hirai Family's second daughter, Hirai Mina, guide him to the tsurugi, and dons it despite the continued resistance of the Hirai chief, Genzou, who he cuts down without a thought.
"Blood......blood......let me suck blood! Offer me the blood of men!"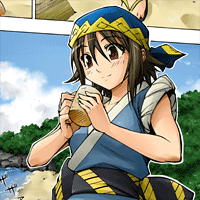 Thus, the calamity that was sealed on the island, "Ame-no-Mahitotsu-no-Mikoto Kusanagi" was released, and Kijikai Island was plunged into hell. One after another, the inhabitants of the island were slaughtered, and even Mina had fallen into their hands.
"Please anyone, God or the Devil, I don't care...
I'll give my life if you want... just please... kill....this... demon!!"
In that moment, a crimson colored "demon" appeared before Mana.
A crimson tsurugi, washed in a sickly blood-like radiance.

Muramasa......the mad demon.

That was what Takagi Kanpei called it.